28th February 2019
A familiar face to many at Wolves has been in the Huddersfield Town dug-out for this season's matches against the Terriers – the Academy's former head of goalkeeping Paul Clements.
Now in charge of Huddersfield's senior keepers, Clements still has great memories of his time working with the best young Wolves talent at Compton Park.
Firstly Paul, when did you become part of the team of Academy staff at Wolves?
I came to Wolves in 2012 when the club secured Category One status and I knew Pat Mountain, who was the first team goalkeeper coach at the time. I was at Middlesbrough where I'd been for seven years and I was looking for a new challenge. I went and met with Pat and Kev [Kevin Thelwell] and I was really impressed with the club, especially their vision for the Academy, and I wanted to be part of it. It was a big decision to move away from home at the time, so I didn't take the decision lightly, but Wolves are a big club and I wanted to get involved.
What did your job at Wolves Academy involve?
My official title was 'Head of Academy Goalkeeping', which involved being a link between the first team and the Academy for the goalkeepers with the under-23s and I was also involved in implementing a programme down to the under-9s. I spent a lot of time working all the way through with all the age groups in the Academy and I thought we had good potential.
What are your memories of the three years you spent with the Academy?
When I came into the club they'd just been relegated from the Premier League, and then that season they got relegated as well, so it was a tough time. But my memories were that the future's bright as we were developing something big in the Academy. I was just excited with this new challenge, excited to be working with Harry Burgoyne, who I think was 15 at the time, as well as a couple of the other good young players we had. There was investment being put in to the Academy, the plans were in place for the new Academy building at the training ground, and it was just enjoyable to go into work every day.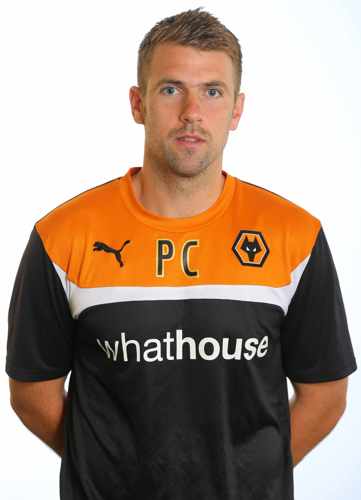 Which goalkeepers did you work with during your time at the Academy?
We had a good bunch of goalkeepers; Aaron McCarey went on to play for the first team, Aljaz Cotman has played in the Champions League for Maribor, Jon Flatt is now at Scunthorpe, Harry Burgoyne has obviously played for the first team, so good keepers with good potential and my job was to try and get them through. It was great for the them when they got to train with the first team as they would work with someone like Kemes [Carl Ikeme] who was so good with them. It helps develop young keepers if you give them a taste of what could be theirs if they work hard enough.
You left the Academy in 2015, what made you take the decision to move to Huddersfield?
I had been at Wolves for three seasons and it was a long commute from home. It was a tough decision to make as I was only going to leave Wolves for something that really excited me. I had a desire to push on to first team and have that balance of family life, so although I was going to a club that was a Category Two academy I could see a different challenge. At Wolves you have all the facilities set up to produce and there's great staffing structure, while Huddersfield was a lot behind Wolves and needed the experience I had to help it develop.
At the start of last season, you made the transition from academy to first team. What's been the main difference in your job?
There's not actually that much difference – it's just the pressure at the weekend. You're still trying to develop your goalkeepers and get them ready for the match. I always like to have a young goalkeeper with me in training though, as I still want to help develop the young players as much as I did when I was with the Academy.
Finally, did you enjoy seeing a few familiar faces from Wolves this season?
I still have so many friends at the club; Rob Edwards, Scott Sellars – who I used to live with, Jonathan Fenner, Jonathan Hunter-Barrett, Ron the kit man, I don't want to miss anyone out! Every time I'm down there I always make sure I see that lads. The last time I went back to Molineux before this season it was a good experience as we sealed a place in the play-offs and Harry played in goal for Wolves, which I was delighted to see. But I was buzzing that Wolves got promoted last season.
This article first appeared in the Wolves versus Huddersfield Town matchday programme, which is available around Molineux on matchdays for just £3.50, and also featured content with Jonny, Matt Doherty and Andy Thompson. Back issues are available in the Molineux Megastore and online now.
#WolvesAcademy