3rd April 2021
Dan McNamara believes his Wolves Women side have nothing to prove when they face Nottingham Forest in their Vitality FA Cup tie on Sunday afternoon.
Live on Wolves TV from 1.45pm, Wolves will be hoping to keep their 2020/21 season going in the cup after their league campaign was declared null and void, but manager McNamara thinks the pressure will be on their opposition, who are challenging at the top of the tier three, compared to his tier four gold and black side.
Having faced Forest during pre-season, McNamara knows the challenge which awaits his team on Easter Sunday, but he has urged his players to just enjoy getting back on the pitch after four months away, and if they were to cause a cup upset, that would be a bonus.
On the morale within the squad having returned to training
"We've had a great week. We were in Tuesday, a session on the Wednesday and then back in for Thursday as well, and it's been really positive, but I don't think it was going to be anything other than that.
"The girls were just desperate to get back together and get back to familiar faces. Football is a release for people, so it's just been great to get back and see everybody back together, as well as getting the banter flowing again.
"It's like we've not been apart, which is credit to the staff and the players who have been here over the last three years I've been at the club.
"We've created a really passionate culture and environment. You've got to have a place where everybody wants to be in and be part of, and that's probably why it's been so difficult, and the group did suffer from losing each other for that amount of time.
"But when we do have the time to get back together, it's like we've never been apart. It's a really tight-knit group, and now we hope this is the final corner and we can get back together for good."
On the fitness levels among the squad
"Tuesday's session was a bit frantic. I think everybody just wanted the ball after such a long time away, but then on Wednesday and Thursday we started to see the quality come out again.
"But the strength and conditioning staff, Nathan Maxfield and Roy Williams, have got to take a lot of credit for what they've done during lockdown. They've been working the hardest out of any of the staff, leading Zoom sessions twice or three times a week with the girls, and that's paid dividends.
"The way the girls have come back is nothing short out outstanding and hopefully we can take that into Sunday, and it will stand us in good stead ahead of a really tough game."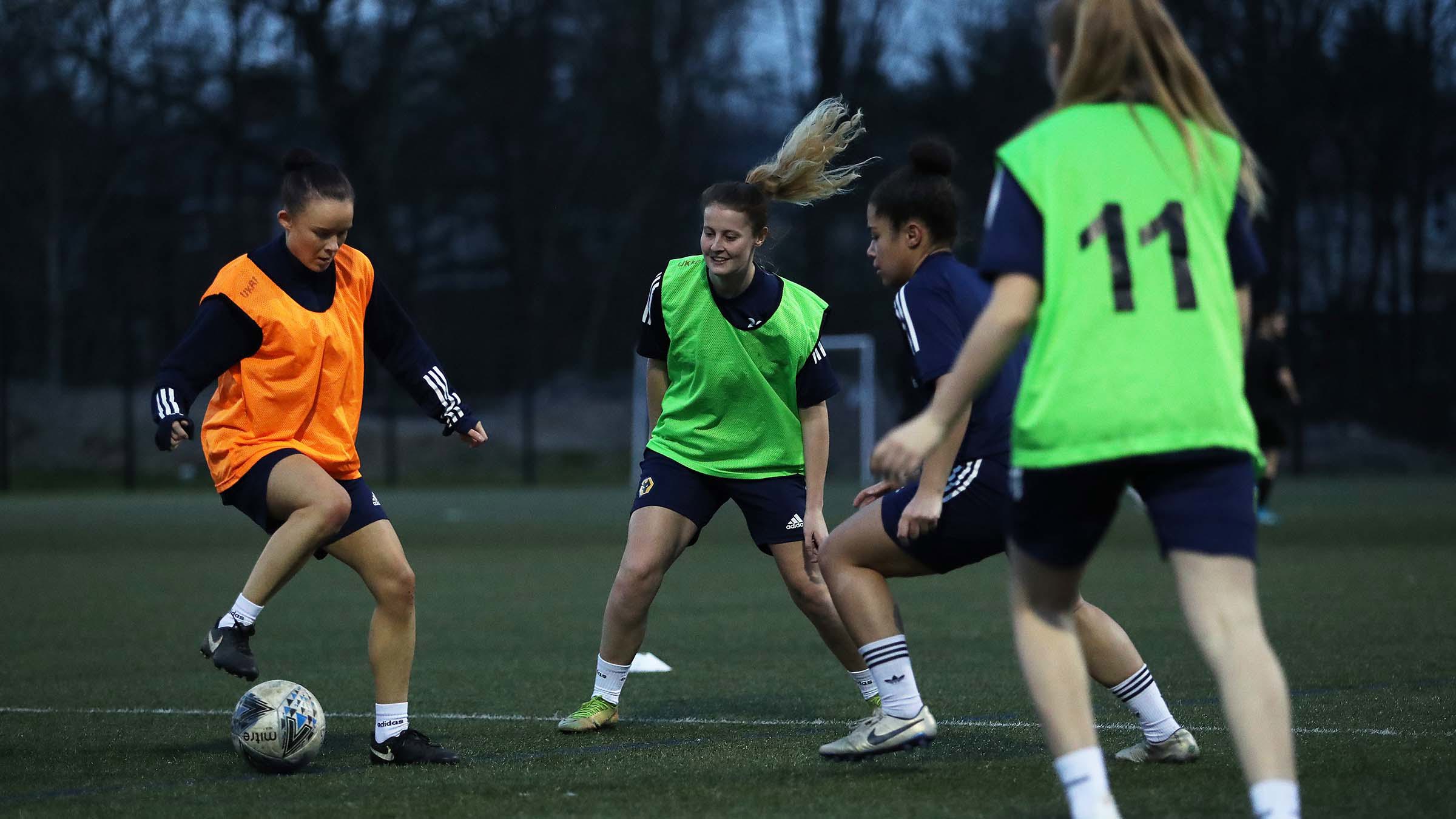 On what to expect from Forest
"We played Forest in pre-season and they're a massive club, as are we. They're currently operating in tier three and they've got a fantastic manager in Andy Cook who's been there at the top of the game.
"He's brought in some great players and that shows with the journey they've come on during the last few years.
"We're expecting a really tough fixture. It's always going to be hard against higher opposition, but everyone knows that we believe we should be operating in that tier, so now it's about going out there and competing, and giving a good account of ourselves.
"If we do that, and we all enjoy it, then I'll be really pleased come Sunday."
On how Sunday will be different from their pre-season meeting
"Pre-season games are not as competitive, they're not as combative, there's not really anything on the line and you're just using it for minutes in the tank.
"This time round, it's not just about the FA Cup – which is a really good competition and trophy in its own right – but it's also the opportunity to play again next week.
"We've not put any fixtures in the diary for the 11th, because if we do get through on Sunday, we end up playing Watford or MK Dons the week after, so there's an extra dangle of a carrot to get through this time so we can continue our season.
"It will be a feisty encounter and we can forgive the girls if it's not the most technically perfect display after what they've had to endure over the last couple of months, but it will be great to be back on the pitch, see people smiling and seeing females kicking a ball again."
Preparations for Sunday 🔛

🏋️‍♀️💪 pic.twitter.com/hEP7uOYMqA

— Wolves Women FC (@WolvesWomen) April 1, 2021
On the pressure being on Forest
"I said to the girls that it's a free-hit for us. There's no-one expecting us to do anything. Forest have almost got to come here and win.
"They're the team who are thriving in tier three and looking to push on to the Championship, and we're a couple of seasons behind that.
"There's no pressure on the girls. I just want them to go out and enjoy it and if we can cause a cup upset - which is what it will be - then we will be delighted."
On showcasing their talent live on Wolves TV
"It just highlights the direction of the football club. It's amazing that they've thought to do it, especially during this One Pack Week, so a massive thanks to everyone who has made this work.
"But regardless of the game, my players don't have anything to prove to anyone. I know that sounds crazy, but this game is not about us proving how good we are – we've done that over the last two seasons.
"We've been consistent in everything that we've done, we've operated at the highest level we can do, and really represented Wolves well.
"Sunday is about enjoying it. It's not going out there and proving anything to anyone. It's about enjoying the occasion, families being able to watch the girls play again and just enjoy it."
#WolvesWomen
#OnePackWeek