22nd January 2019
Wolves under-23s shot straight back to the top of the Premier League Cup Group E table after a hard-fought victory over Hull City.
A Niall Ennis long-range strike just before the stroke of half-time sealed a 1-0 victory for Rob Edwards' side who remain unbeaten in their four PL Cup matches so far this season.
Following the game, Edwards spoke about how his team had to win 'ugly', as well as giving starts to players who have found minutes hard to come by so far this season.
On Premier League Cup victory
"It was a difficult game as the conditions were tough for the players, but I thought we started well, then allowed them to get into the game a bit.
"They were quite direct, I wouldn't say physical, but they were more direct in their play and we allowed them to play their game, too much about us allowing them to control it, the conditions probably had something to do with that.
"It was fairly even for the whole 90 minutes, but we had a few moments of quality – Carlos Heredia hit the bar after a couple of minutes, Sadou Diallo had a good effort, we had a few good chances, Niall scored a really good goal just before half time, so to go in 1-0 at half-time was good.
"I was hoping we would then get a bit more control in the second half, but it was more that we looked threatening on the counter, we couldn't control play with our normal flowing style, but you have to do it different ways and we dug out a result, showed some good spirit with our fight."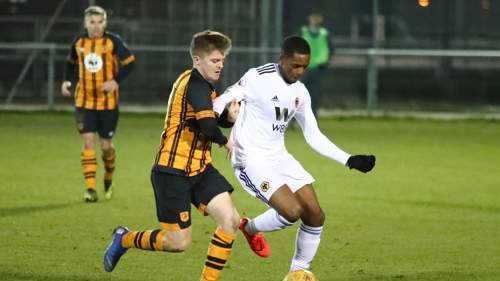 On winning 'ugly'
"It's important that they can show both sides of themselves. You have to do that in every game, as well as being able to control the game with nice, pleasing to the eye football, you've got to be able to show that spirit, be able to defend as a collective, head the ball out your box, midfielders have got to win headers, win second balls, win tackles, be physical and competitive.
"They did all that and showed great fighting spirit, especially towards the end of the game because Hull were throwing everything at us, but we managed to keep the ball out of the net.
"It wasn't pretty, but it was good to come away with the three points."
On giving playing time to:
John Kitolano
"John has been out with an injury since he signed for us, so we've been getting him back to full fitness. He played the first 45 minutes and did well.
"He just needs games now and we've got to manage him, but it was great to have him back out on the pitch and the lads were pleased for him as well, because he's a good lad."
Dion Sanderson
"Dion played a couple of games ago, and the plan was always to take him out of the next one, which was the Reading game, so having him back after a while out is good as it brings more competition for places in the defence."
Harry Beasley
"Harry is someone who's finding it tough to get games. Andreas Sondergaard has done extremely well, but Harry is a really highly-thought of member of the squad, he's been really patient but has worked hard and it was a tough night for him as well.
"It was tough conditions, it was really blustery, they put a lot of balls into the box, so it was great for him to keep a clean sheet which will give him some confidence.
"Harry is the kind of player who knows he needs to get his career going, playing football regularly, so we'll see how the next few weeks pan out for Harry, but we were really pleased to give him some minutes and get the clean sheet."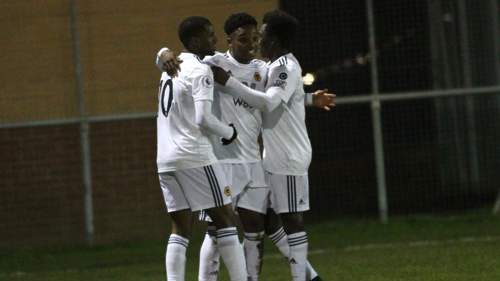 TEAMS
Hull: Burton, Hesson (Jacob 53), Fleming, Sheaf, Ritson, Greaves, Lewis-Potter, Chadwick, Powell, Holmes, Smith.
Unused subs: Foulkes, Adamson, Hawkins, Taylor.
Wolves: Beasley, Buur, Sanderson, Kilman, John, Watt, Diallo, Kitolano (Francis 46), Heredia (Sauvage 80), Ennis, Samuels (Goncalves 65).
Unused subs: Pardington, Molberg.
COMING UP
Wolves return to Premier League 2 action as they aim to regain top spot in Division 2 as they play their game in hand over current league leaders Reading. The match – which was originally postponed due to a frozen pitch at New Bucks Head back in December – is set for a 2pm kick-off at Compton Park this Friday.
NEXT FIVE
25/1 Fulham (H)
1/2 Newcastle (A)
8/2 Swansea City (H) PLC
15/2 Norwich City (H)
22/2 Oxford Untied (H) PLC
#WolvesAcademy