4th April 2019
Thursday's news of Raúl Jiménez's permanent signing spread excitement across the West Midlands, but the striker's admirers come from far and wide. We round up the top six sets of quotes about Wolves' popular, and now permanent number nine.
Alan Shearer | Record Premier League goal scorer
"I've been impressed. If you can get between ten and 15 goals in your first season, in a team that finishes outside of the top six, then I think it's been a successful season.
"The times that I've seen him he's done very well, and he's been difficult to play against – as you have to be playing the position."
Conor Coady | Jiménez's captain
"He's been huge for us, he really has. He's a brilliant footballer but at the same time he's a fantastic person. He's fitted into the changing room seamlessly. He's come in and you'd think he'd been here for years. He's a fantastic character.
"You look at the way he links up with Jota, and the relationship they've got with each other at the minute, it's fantastic. Looking at it from behind, in the position I play, it's an absolute pleasure to watch.
"He's a brilliant footballer but at the same time he's a fantastic person and it's like he's been here a long, long time."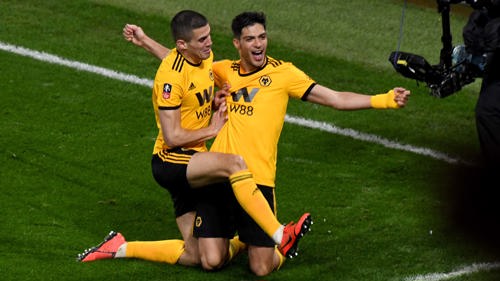 Gary Lineker | 281 career goals
"He's done really well. He's got a good all-round game. He can hold it up and puts in a lot of work to bring other people in. He can also be quite creative, so I think as all-round strikers go, he's done particularly well.
"The one thing you're judged on as a striker is scoring goals, and if he can keep going the way he is, that would not be a bad effort."
Diogo Jota | Jiménez's strike partner
"I think he is one of the best players at the club. Probably the best offensively since the season began because he could show his abilities during all the season, scoring goals, making assists, helping the team defensively. So, I think for us he's a very good player
"Me and Raúl are understanding each other well, so that's good for us and for the team, but we know that without the contribution of other players, nothing would be possible. Football is about reinvention and finding solutions. We have found ours and it's working at the moment.
"He's a great player so we wanted him to stay of course."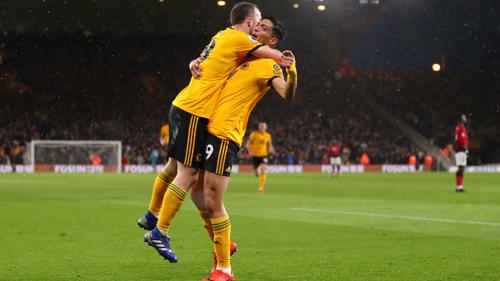 Ian Wright | Part of the Premier League '100 Club'
"Being a top striker, and being a new forward in the Premier League, all depends on the service you are getting.
"If you're getting the service he has been getting at Wolves, from Doherty, Jota, Neves, Moutinho, from Gibbs-White – who's been very impressive – from all of the guys, they make a lot of chances.
"If you're anything worth your salt, you're going to get chances and then it's down to you to take those chances and Jiménez has been taking his chances and scored in very big games for Wolves as well, playing really well."
Matt Doherty | Jiménez's team mate
"He has been a great player for us, he's been absolutely fantastic. His stats probably speak for themselves; he's got goals, he's got assists, but it's not only that, just his performances in general.
"The way he holds the ball up, the way he works hard for the team, and especially with this being his first season in the Premier League, people usually say it takes time to adapt but he's kicked on straight away with his goals and hit the ground running.
"As a teammate, I'm obviously delighted to see him to commit his future long-term. For someone of his quality to sign permanently to Wolves and commit the next four years to the club. So, I'm very happy. I'm over the moon."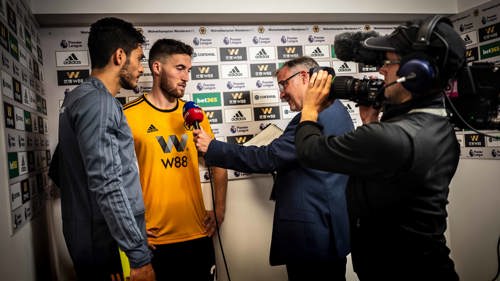 #RaúlSeQueda