6th January 2022
Wolves' run in the U18 Premier League Cup came to an end at the hands of Birmingham City on Thursday afternoon, but head coach Steve Davis was taking the positives having put out a young side.
Brandon Khela's goal early in the second-half was enough to condemn Davis' side to a 1-0 defeat which meant Wolves were not able to progress out of Group F, but having handed first starts at under-18 level to several schoolboys, due to a large proportion of his squad making the transition to James Collins' under-23s, Davis believes there is a lot more to come from his players during the rest of the season as attention turns to the U18 Premier League North campaign.
On dropping out of the PL Cup
"Although we lost, it was the kind of game we needed to get back into the swing of things after a long lay-off over Christmas. Our last game was on the 18th at Stoke, so it's been three weeks since we last played and it showed a little bit in our physicality and our performance.
"We looked a bit tired towards the end, with players pulling up with cramp, so the positive to take out of it was that we needed that game, and we could see that they looked rusty from the break. It was important they had the break to rest, recuperate and recharge, so that was equally important.
"We've had a week training leading up to the game, but we were young because we're on that transition with the group where we've seen a number of our players going up to the under-23s.
"But we also had the opportunity to play some of the younger ones again, like Leo Shahar, he's only 14, Hayden Carson, an under-16, played his first game at left centre-back, Fabian Reynolds who's an under-16 winger started, and Fin Ashworth got some minutes off the bench.
"In that respect, we were very young and on this period of transition now, it's about bringing those players in and having a look at them and see how they cope with under-18 football."
Our under-18s returned to action this afternoon after their Christmas break.@BCFC came away with a narrow win, with Brandon Khela scoring early in the second half.

🎓🆚 pic.twitter.com/WHdq2AtYTu

— Wolves Academy (@WolvesAcademy) January 6, 2022
On focusing attention to the league
"There's a huge demand with league fixtures and we've had to arrange some because of the FA Youth Cup. It would have been nice to have won today, playing Birmingham you always want to beat your local rivals, and we're trying to teach the lads how to win games.
"We would've liked to have won the game, and maybe we would have qualified had we have won today, so we're obviously disappointed with that, but the squad is very small, we only had six players to prep yesterday before the schoolboys came into the group today, having only been back a few days since Christmas.
"Hopefully over the next few months, we'll have more exposure with the schoolboys and we can start to work with them on a more regular basis and build those relationships, which should see them all get better.
"It happens every year, we're hopefully moving players up quicker, so the players underneath are getting opportunities a bit earlier before they become scholars, and we believe it's healthy and is something we're going to keep doing as part of our plan in the Academy to push the young players through and play the young players up when they are ready."
On starts for Shahar, Carson and Reynolds
"I thought Leo was good and coped with the step up very well, but he's an intelligent player who's very good technically, and out of all of them coped the best.
"I felt Fabian found it difficult both physically and tactically because the game was very fast for him, but that is part of their development and we've got a lot of work to do with him. But he's got raw talent and that's what we recognised when we brought him into the Academy in the summer.
"He's got good ability with the ball, he's a good athlete, quick and travels well with the ball at his feet, so we've got to try and make him better at the things he's good at, but also improve other aspects of his game, which he knows himself he needs to work on.
"Hayden just needs to play more because he's had a lot of disruption and setbacks with Covid and injuries, so needs a consistent run of training and games to improve.
"But these games give us the chance to look at our younger players and see what their needs are before they become scholars and work with us full-time."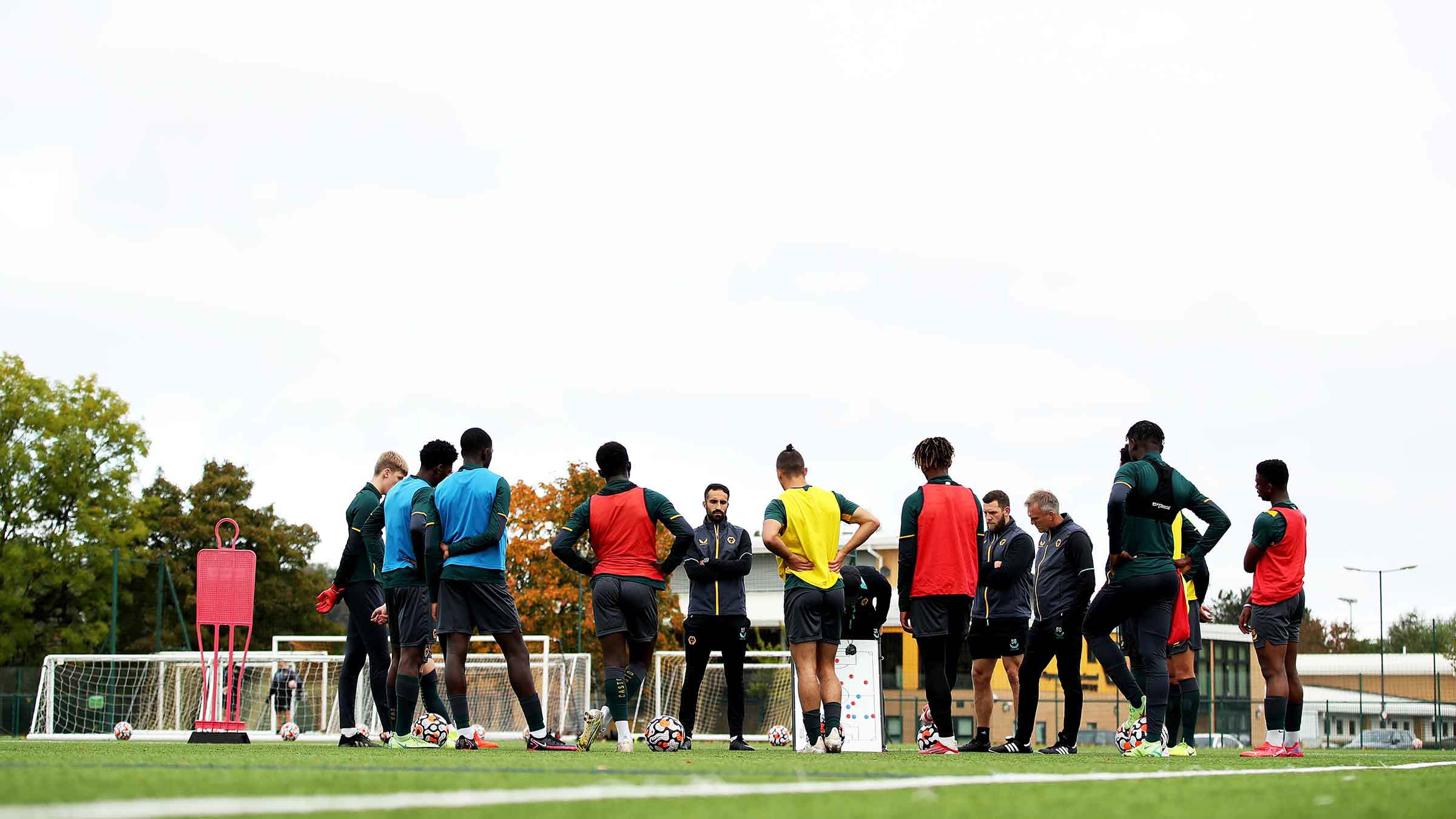 On players returning from injury
"We had a few guys who have been injured and came back today, such as Kam [Kandola], who got 35/40 minutes, Ty Barnett played for about 30 minutes, which was really useful for him to get that workout and minutes under his belt because they've both been out for a rather long time.
"We've still got one or two others to come back, Marvin [Kaleta] is out injured at the moment, albeit not for much longer, Ethan McLeod has started jogging again, so we're hoping to get him back at the back end of January or February, and Marvin maybe sooner.
"It will be good to have those guys back because they've all had disruption due to injury and setbacks to their development.
"But this is the group we have to work with for the rest of the season now, so it's about improving the ones who are fit, getting the injured players back and training regularly, and all of them pushing to get into the 23s for the start of next season. That's got to be their targets and goals now."
COMING UP
The under-18s have a weekend off after their fixture with Liverpool was rearranged and will now take place in April, meaning Davis' side have plenty of time to prepare for their FA Youth Cup fourth round outing at Crystal Palace next Saturday afternoon – in which he expects to have a strong squad of scholars available with the under-23s taking on Southampton this Sunday.
"We've had that conversation with James [Collins] and Jon [Hunter] that we get that group together next week," Davis said. "They've got Sunday's game with Southampton and we're off on the Monday, but then we'll start preparing on the Tuesday.
"We're hoping to get the group together, that's if they get through Sunday alright with no problems, but we'll also have Ty and Kam who we didn't have in the previous round, so we can add them to the squad and are ready to play if we need them.
"The squad looks healthy and we're only a couple short with injury, so it will be interesting to see how strong we can go with the group."
NEXT FIVE
13/01 Crystal Palace (A) FAYC
22/01 Nottingham Forest (A)
27/01 Middlesbrough (H)
05/02 Manchester United (H)
19/02 Liverpool (A)
TEAMS
Wolves: Arinbjornsson, Shahar, Carson, Mabete, Kandola, Keto-Diyawa, Esen, Francis-Burrell, Reynolds, Rees, Farmer.
Subs: Ojinnaka, Amos, Barnett, Ashworth, Clarke.
Birmingham: Mayo, Oni, Browne, Sullivan, Manton, Home, Carsley, Khela, Wakefield, Rushton.
Subs: Beresford, Williams, Nguepissi, Ogor, Pendleton.
#WolvesAcademy